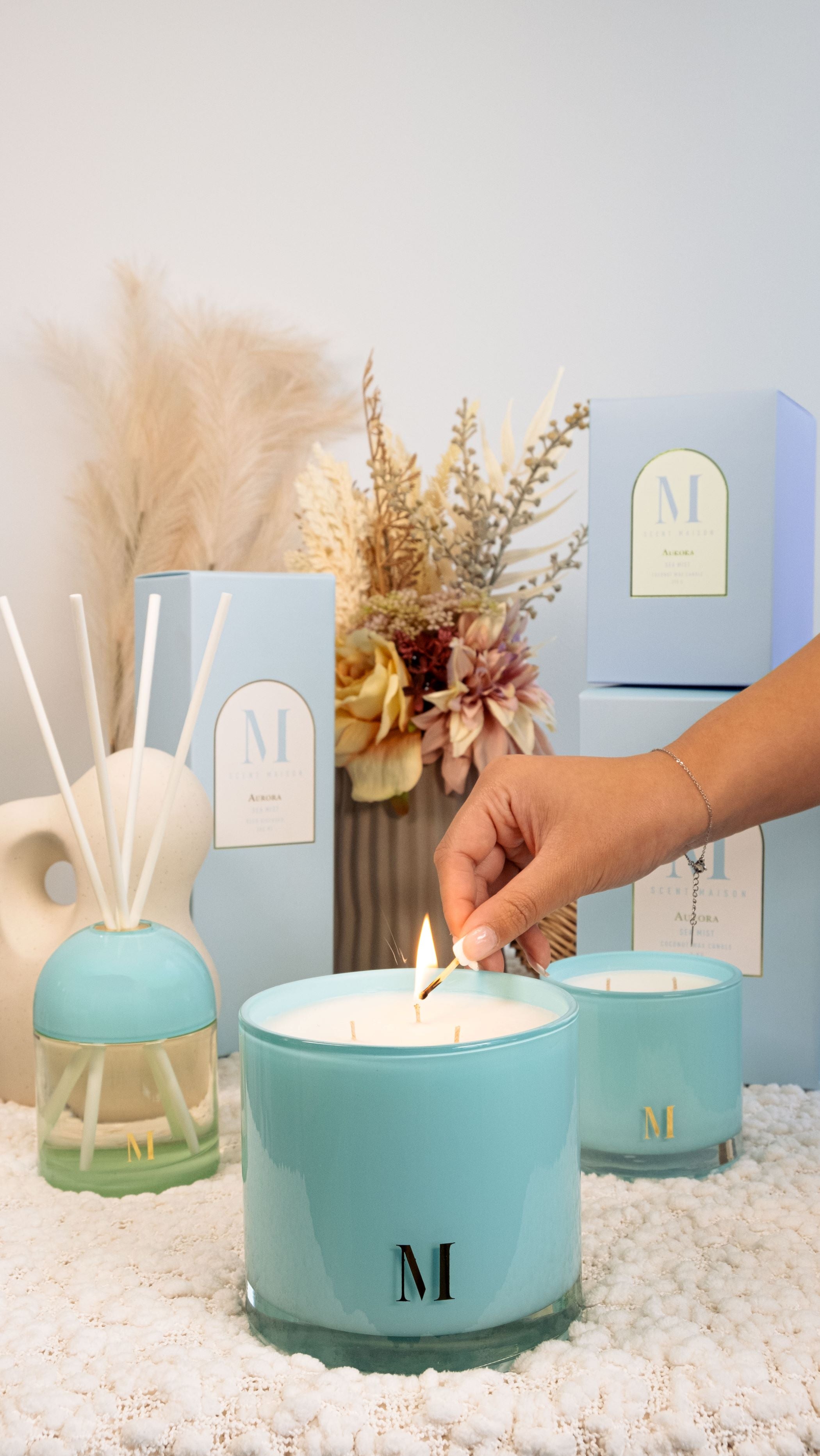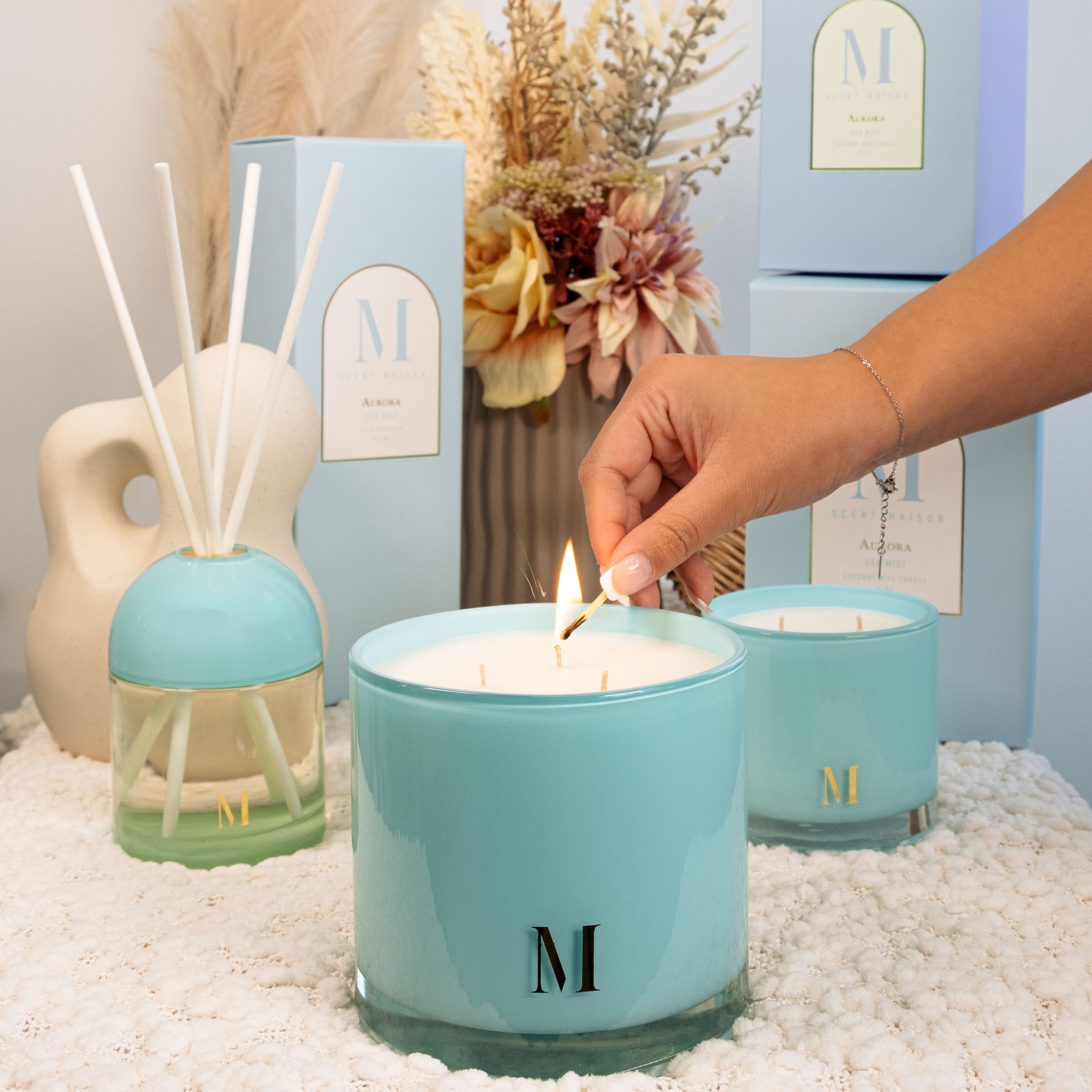 Frequently Asked Questions!
What ingredients do you use?
Our candles are made from 100% natural wax
Our diffusers contain a botanically derived carrier that is free from alcohol and petrochemicals
What does a 'botanical wax blend' mean?
Our botanical wax is a blend of soy and coconut wax and is 100% pure botanical wax with no petroleum, no paraffin and no palm oil.
What type of wicks do you use?
Our wicks are made out of lead-free, 100% natural cotton or timber.
Are your products tested on animals?
No, we do not test any of our products on animals.
How do I use my diffuser?
We package our diffusers carefully to ensure that the oil from the diffuser does not spill. There is a small note enclosed in the box with simple instructions to use your diffuser.
Remove the stopper from the bottle of fragrant oil.
Place the reeds into the bottle and allow them to absorb the oil.
The cotton and paper reeds are very absorbent and do not need to be turned, filling your room with long lasting fragrance.
Can I buy diffuser refills?
Currently, we do not offer refills in any of the ranges.
How often should I flip the diffuser reeds?
Never. Our reeds are made of natural cotton or timber that do not require flipping and provide long lasting fragrance for their entire lifespan.
Where should I display my candle or diffuser?
We recommend that your candles and diffusers are kept out of prolonged exposure to harsh sunlight as the intense Australian heat may cause your candle to melt or your diffusers to discolour.
What are the safety recommendations for candle burning?
Always burn candles well away from drafts, other heat sources, and anything flammable. Make sure burning candles are out of reach of children and pets. Never leave a burning candle unattended. For more information visit our candle care page. 
How should I burn my candle safely.
When you first burn your candle, burn it until the wax pool reaches the edge of the glass. This will ensure your candle always burns flat and you get the most from your candle. Ensure your wicks are upright and trimmed to 6mm (¼ inch) before use.
Do not burn the candle for more than 3 hours at a time. Stop burning when 13mm of unmelted wax remains in the bottom of the glass of your candle.
Ensure candle is off, wax is solid, and jar is cold before handling.
Never move a burning candle.
Always place your candle on a heat resistant, level surface.
Keep away from children, pets, and flammable materials.
Do not leave your burning candle unattended.
Never use water to extinguish a candle.
How can I make my candles last longer?
Before every use, trim your wick to allow only 5 millimeters above the wax.
On the first burn, allow your candle to burn for 3-4 hours maximum. Extinguish the candle allowing the wax to re-solidify. After this you may continue to burn your candle for 3-4 hour periods at a time.
 How do I become a distributor/stockist?
Please apply via our wholesale page and one of our friendly staff members will get back to you shortly after assessing your eligibility.
Do you ship internationally?
No, we currently only ship within Australia.
How much is retail shipping?
Australia Standard Delivery is $10.95, or free for orders over $100.
 What do I do if I receive my order and there is a problem?
Please make sure you take photos and retain all of the product components in the case that an item arrives broken, damaged or incorrect. Please send through this information along with a brief description to sales@homefragranceco.com.au and we will be able to assist you further. We are unable to accept change of mind returns.